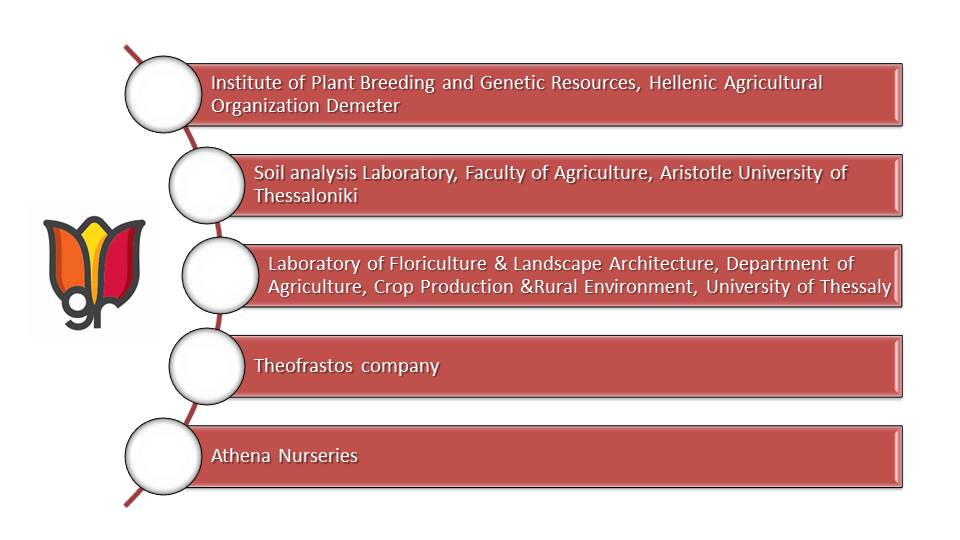 The TULIPS.GR partnership includes:

1) The Institute of Plant Breeding and Phytogenetic Resources (IPBPR) of the Hellenic Agricultural Organization Demeter (scientifically responsible: Dr. G. Tsoktouridis),

2) The Soil Laboratory of the Faculty of Agriculture, Aristotle University of Thessaloniki (scientifically responsible: Prof. T. Matsi),

3) The Laboratory of Floriculture and Landscape Architecture of the Department of Agriculture, Crop Production and Rural Environment, University of Thessaly (scientifically responsible: Ch. Lykas),

4) Theofrastos company with Α. Pappas and

5) Nurseries Athena with I. Plastiras.

Coordinator of TULIPS.GR is Dr. N. Krigas (IPBPR).
The TULIPS.GR partnership combines the interdisciplinarity and complementarity of experience in the research line of TULIPS.GR. Each of the participating bodies will play a vital role in the project, which in combination with the know-how of the partners is aimed to successfully complete the expected results. The complementary know-how of the actors and the pre-existing communication channels enhance the capacity of the partnership.